My favourite trailers and what makes them effective in meeting their goals and how they suit their target audience.
Looking to purchase a game on the PlayStation store, Switch or Steam I find the most effective trailers are focused on showing you the gameplay, story and genre of a game without telling you.
Sky: Children of Light
Cinematic Trailer
Sky Children, has a very cinematic style trailer, showing off the beautiful art direction, dramatic music and showing some narrative clues for the game like friendship and togetherness. Again the trailer doesn't give too much away.
Manifold Garden
I love this trailer for the way it plays with visual design, creating shapes and symmetry. The music and level design tell a story without any dialogue or text.
Cats & Soup
Gameplay Trailer
Cats and Soup is sweet, polished and fun to play. I like this trailer because it's simple and effective, what you see is what you get.
The Garden Path
Gameplay Announcement Trailer
The Garden Path shows off the unique contemporary visuals in this announcement trailer.
Merge Mansion
Advert
Merge Mansion, Lily's Garden and Gardenscapes all play on a particular type of narrative advert to gain attention for their gardening games. The success of this type of marketing is obviously in wanting to know the bizarre plot twists and turns and playing on what you're expecting to see. The entire part of the story where someone's died, is alive, and grandma is going to jail is missed out, so you want to play to fill that gap and to find out how it all ends.
'Game Trailer Representation Responsibilities'
While considering a game trailer, it's important to consider what you will be showing. "If a game trailer is intended to be a summation of a game, then one of many factors it's important to consider is how it represents different genders, cultures, ethnicities, ages, etc" (Lieu, 2021). On release, Flora Fatalis would have a choice of many different profile images represented by different genders, cultures, ethnicities, ages etc but for most of the gameplay you won't see the duchess on screen. For this reason, while different images of duchess's may appear in marketing materials, I'm going to keep an illusive mystery to the duchess's image. The important thing is, the duchess is many different people.
Making a Trailer
| | | |
| --- | --- | --- |
| Stage 1 | Concepting | Define your idea |
| Stage 2 | Scripting | Draft your story |
| Stage 3 | Storyboarding | Plan your scenes |
| Stage 4 | Animatic | Define pace & timing |
| Stage 5 | Design | Define visual approach |
| Stage 6 | Logistics | Plan the production process |
Fig 1. Chambers 2021. What is an Animatic? [table]
Stage 1 Concepting – A cinematic trailer
My cinematic trailer will depict a fantasy for offshoot gardeners, growing and collecting plants as a strange and poetic duchess. "When making an announce trailer, you have to take a good look at all aspects of the game like its: story, game mechanics, art style, setting, character design, animation, sound, or music, and identify the ones which stand out the most. Ideally, the strongest one is the hook of the game; every other element will act as support" (Lieu, 2021). Flora Fatalis is an alternative kind of garden mobile game, with a strange story, the hook is not just the poison plants but the strange and eery world.
Stage 2 Scripting – Adaption of a poem
The trailer features an adaptation of a poem I wrote (Masters 2017), the original version is several verses longer and punctuation, words and rhyme has been changed/emphasised for suitability to the game.
"My body grieves the absent sun, the cold smiles
on her scratches of my glass-like skin.
Sharpened swords sail on chilling winds,
slicing through my shattering shell and widening my wounds.
The weeping tree, she fouls my throat,
her branches binding bitter wounds.
My heart screams and sinks, in her hollow trunk,
the limbs limp, they hold a tarnished soul.
Flora Fatalis, a strategy, simulation and story game for the mobile."
Stage 3 Storyboarding – Pathetic Fallacy (it was a dark and stormy night…)
The weather will represent the emotions of the duchess and add an allure to the garden and it's a mystery.
An ambitious start
Each box represents a 5-second window and when I planned to draw out an animatic/ fit the drawings with script – I found no one can squeeze all these frames in!

Fig 2. Masters. 2021. Storyboard
Still too ambitious
I started again, and was still too ambitious!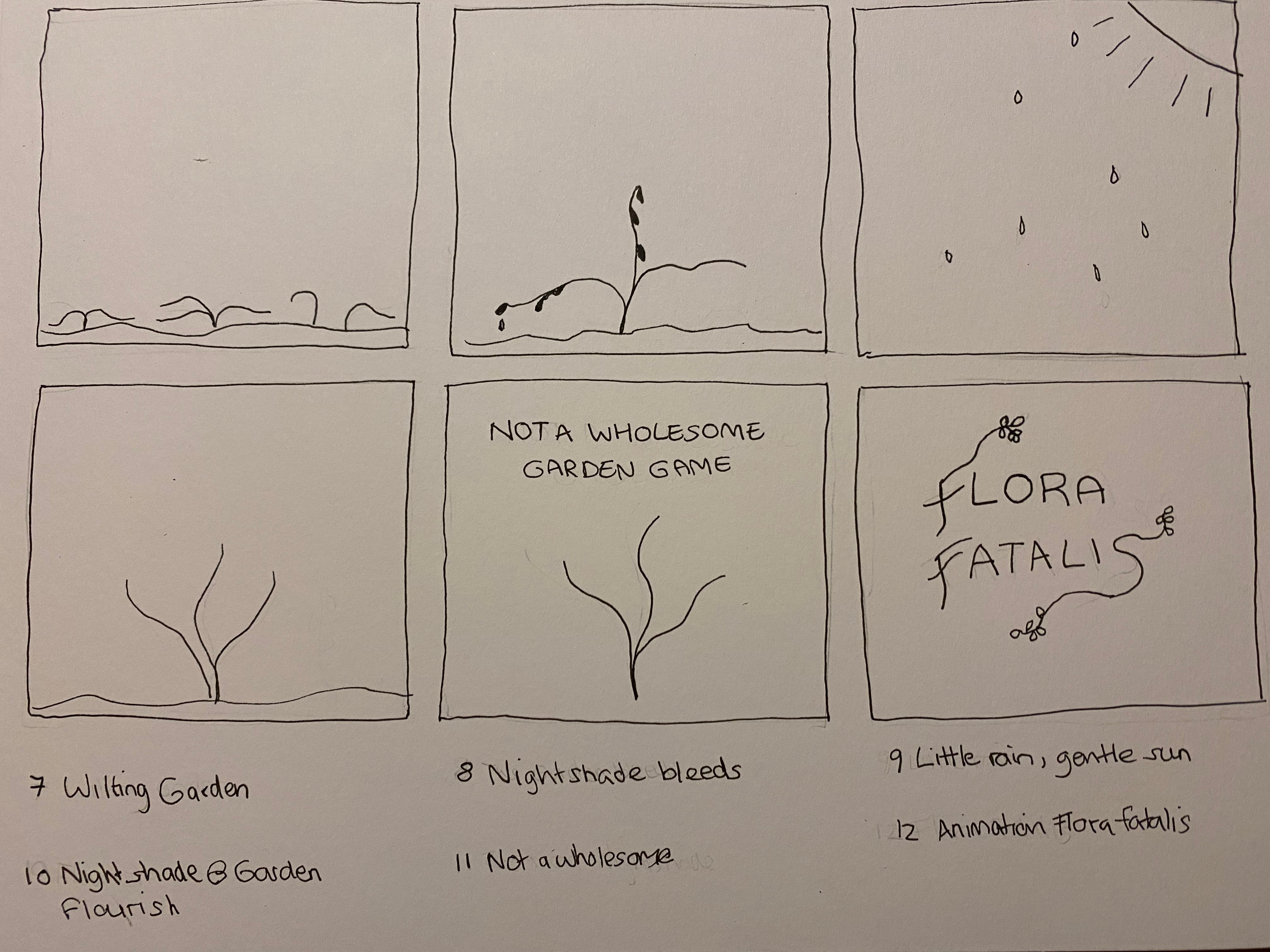 Fig 4. Masters 2021. Storyboard25
Scoping down with ProCamera 2D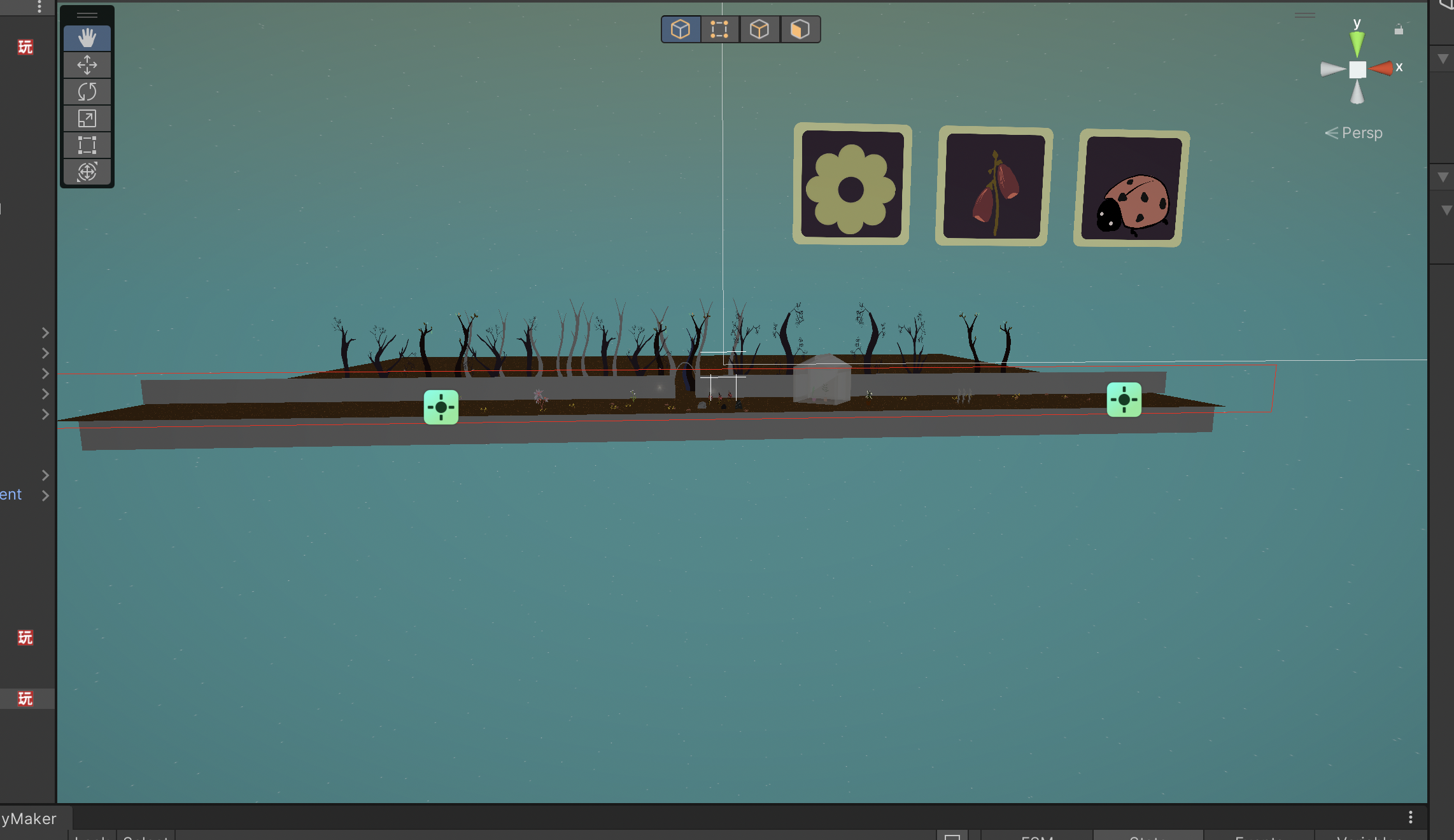 Fig 5. Masters 2021. Cinematics
The timing for my storyboards were too ambitious to complete, so I began again. I decided to pan along the garden and display one or two weather types at the same time.
To create a cinematic effect for my trailer I am using ProCamera2D's options to target different areas to ease to and from.
In addition, this will make a nice intro for the start of the gameplay.
Stage 4: Animatic
An overly ambitious start ate away into my time, so instead of creating an animatic, I planned the pace of the trailer through programming the right timings and ease in Unity to fit nicely with the script.
Stage 5: Design – A sad story
Sound & Music
Sound and music are fast becoming my favourite part of a sprint. I want to create a sad and dramatic atmosphere, so when I found A Sad Story by Setuniman (2013) on Freesound I knew it was perfect.
Voiceover
The materials suggested we might contact a voice-over artist, and fellow students have built incredible demos and trailers working with a professional voice actor. My trailer is a little obscure, and a little unusual so the brief was difficult to write, I consulted Dereck Lieu's insights: "The joy and fun of working with voice actors are the choices which sound totally different from your initial idea but add nuance and character which are fun an unexpected. Try not to be too rigid about what you're looking to hear because otherwise you might stifle the creativity and close yourself off from some amazing possibilities!" (Lieu, 2021).
Credits
Voice Over (Iljaobrien 2021).
Stage 6: Logistics
I recorded footage on NVIDIA ShadowPlay and then transformed the footage in Premier Pro and After Effects to tell a story, adding all the elements together.
A list of software and services used:
PremierPro
ProCamera2D
After Effects
Photoshop
Unity
Freesounds
Professional Voice Artist
NVIDIA ShadowPlay
Polish & The Trailer
Finally, is the genre, hook and content of the trailer satisfactory?
"The Genre helps the audience know if they're interested at all
The Hook tells them why it's notable beyond basic interest
The Content indicates scope and variety" (Lieu, 2021).
I watched over all the elements I've stitched together many, many times to check for fit, atmosphere and nuance, adjusting animation transition and so on until I was happy! The genre should be abundantly clear, and the hook and content will hopefully come across in the script, juice and atmosphere!
See the Flora Fatalis Cinematic Trailer here!
List of Figures
Figure 1. Chambers. 2021. 'What Is an Animatic? [table]. Available at: https://boords.com/animatic/what-is-the-definition-of-an-animatic-storyboard [accessed 27 Dec 2021].
Figure 2. Sarah MASTERS. 2021. Storyboard.
Figure 3. Sarah MASTERS. 2021. Storyboard2.
Figure 4. Sarah MASTERS. 2021. Storyboard2.5.
Figure 5. Sarah MASTERS. 2021. Cinematics.
Figure 6. Sarah MASTERS. 2021. Footage.
Figure 7. Sarah MASTERS. 2021. Voice Over.
References
LIEU, Derek. 2021. 'Derek Lieu Creative' [online]. Available at: https://www.derek-lieu.com/blog [accessed 27 Dec 2021].
LIEU, Derek. 2021. 'How to Direct Trailer Voiceover' [online]. Available at: https://www.derek-lieu.com/blog/2021/8/2/how-to-direct-trailer-voiceover [accessed 27 Dec 2021].
LIEU, Derek. 2021. 'Game Trailer Structure – Genre, Hook, Content'' [online]. Available at: https://www.derek-lieu.com/blog/2021/4/12/game-trailer-structure-genre-hook-content [accessed 27 Dec 2021].
LIEU, Derek. 2021. 'Game Trailer Rrepresentation Responsibilities'' [online]. Available at: ps://www.derek-lieu.com/blog/2021/2/28/how-to-make-a-game-announce-trailer [accessed 27 Dec 2021].
LILJAOBRIEN. 2021. Flora Fatalis [voice over]. Fiverr.com.
MASTERS, Sarah. 2017. 'Little Rain' [poem].
SETUNIMAN. 2013. A Sad Story [music]. Freesounds. Available at: https://www.pond5.com/royalty-free-music/item/22238937-sad-story [accessed 27 Dec 2021].